For most people the ability to call on numerous demons, creatures of the night and gigantic robots of destruction would be enough to pass the time but illustrator and creative mind Simon Sherry still has ideallistic views of taking over the world as a dastardly villain.
Well, at least, it seems that way anyway.
With a definitive style of jagged dark lines, silhouettes and limited tone shading you could be fooled to thinking that a tee or a poster may not contain much detail but you'd be wrong. From the meticulous fluid lines inside a Killbot™ to the hairs on the chest of a gun toting Ace of Clubs his attention to detail is superb and the creations leap off the page and into the mind of the viewer.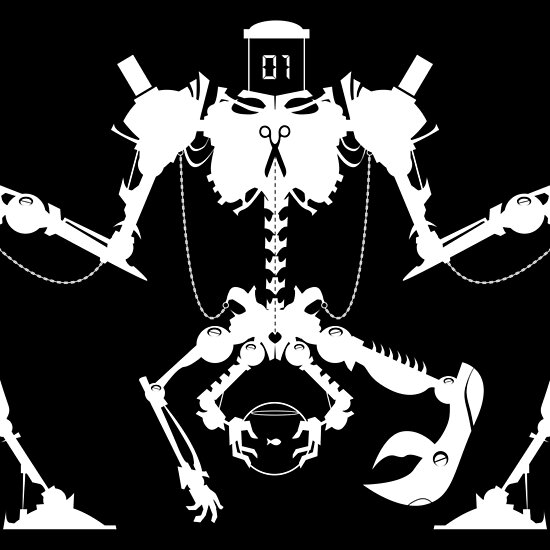 VC - Most illustrators have found that inspiration comes from there childhood and what literature inspired them. What is the picture book or comic that started you wanting to draw?
SS - I can point to four things:
The Masters of the Universe toys and box art. If you've never seen the original box art, I recommend checking it out – it's an awesome mix of Frazetta-style sword and sorcery and Flash Gordon Sci-fi pulp. Can't go past Barbarians and robots! The miniature comics and storybooks that came packaged with the toys also fired up my imagination, and probably sowed the seeds for my love of pulp fantasy.

Warlock of Firetop Mountain and the whole Fighting Fantasy gamebook series – again, an amazing array of art both on and between the covers.

Maurice Sendak's Where the Wild Things Are and In the Night Kitchen – pure fuel for the imagination.

Larry Elmore's art on the Dungeons and Dragons gamebooks – take a look at the red box artwork of the basic set for an example of what I mean (I'll give you a hint, one lone warrior versus one very big and angry dragon).
VC - Have any of your killbots ever been arrested for disturbing the peace?
SS - Not that I'm aware of – although it's possible that someone's tried – the bodies just haven't been found yet.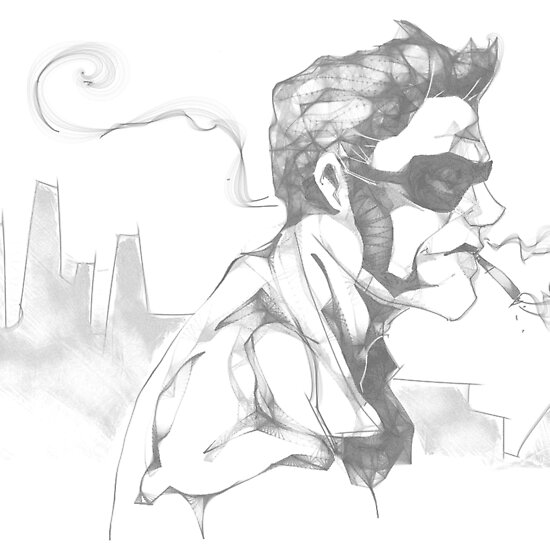 VC - What is your best inspiration when having a creative blockage(your plumbing muse so to speak)?
SS - Playing with the kids, random scribbling on paper or monitor, loud music in the ears and a short walk – all of these things have been known to kickstart my creativity.
MF - You have a range of different projects that have been completed including Killbots™, Deck of Cards and The Game of Kings™, What other projects are currently sitting in the docking bay?
VC - Well, I'm pretty excited about the next phase of Game of Kings. People have seen the 'cast' that make up the two opposing sides of the board, so the next step is to have them duke it out. We've managed to bring some new recruits into the fold to lend their own particular brand of artistic muscle to the endeavour, and I think we're going to end up with a pretty awesome collection of work to show you all later in the year.
Aside from that, I've been assembling my own fictional concept band as part of a challenge being run over at redbubble, and slowly but surely gathering steam with a couple of other ideas that will hopefully see the light of day sooner rather than later. One of them involves a certain undead egg, and I'm pretty eager to get onto it…
VC - I have heard that you are a fan of your Wacom (on occasions it could be seen as a deity of drawing) Is there any other equipment that you are especially fond of?
SS - I think that if I didn't have a Wacom in my arsenal, I'd be a pretty sad fellow. These days it's pretty much my primary tool of the trade, although I still like to break out the ballpoint and paper on occasion. I'm keen to try my hand at a bit of sculpture, but like a lot of things, it's something I haven't managed to get to yet ;o)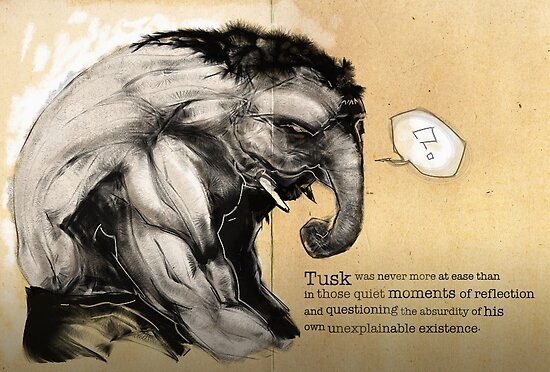 VC - If you had to have any movie/tv series alien as a pet, where would you keep them(oh and which alien)?
SS - He doesn't really count as an alien, but a miniaturized Godzilla would be perfect. Not only would he be a great conversation starter, but I could set him loose on the neighborhood teens when they get on my lawn.
VC - Should the world be attacked by intergalactic demons with swords would you:
a) Turn on Killbots 7 and 8. 7 to destroy them and 8 to have a cup of tea.
b) Unleash the Bullrock, or at least leave the sidegate open for it to go on a rampage across the land.
c) Politely inquire with the Queen of Diamonds to stare them down.
d) Save the file, go to bed and look forward to finishing the sketch in the morning.
SS - Well…
a) Odds are that no. 7 would turn on me instead, dysfunctional as it is, and I don't think I'd ever be game to try the concoction no. 8 calls 'tea' – I've seen what it does with it's victims, and I'm convinced that liquid has more in common with Soylent Green than Twinnings.
b) Not unless I like the idea of being either stomped or incinerated, or both.
c) She'd probably end up striking a deal with them and taking me out herself.
d) That sounds like the safest bet ;o)
All images in this interview are by the awesomeness that is Simon Sherry . If I could claim any credit for them I would but I have a fear of Killbots that stops me acting unethically